More time on the lake
And more exhaustion
Last Wednesday, we had a meeting at Tad's school with a couple of his teachers and advisors for his "Individual Education Plan" session. We learned what his grades were for the fall term – three A-pluses and a B-minus. We all agreed that was a pretty good record; some reward is in order, but we haven't figured out exactly what it should be. The plan at school is pretty much to keep with the current program of getting him into one gifted class a year, and Advanced Placement or enriched classes where possible. We'll also be making sure the courses he takes are not merely aligned with high-school gradation requirements, but also college admission requirements. Since he's interested in architecture and engineering, that will mean considerably more than the basic requirements for math and science.
Friday afternoon we didn't get as early a start as we had hoped, so even though Tadpole had the day off school, we didn't arrive in T or C until dark. We bought groceries and cooked dinner, and we talked on the phone with Zorro and Dino. Zorro was having car troubles, and so he was uncertain about when or whether he would get to the lake. Dino had found a tenant for the place in T or C where we were staying, but there was another place he had that we could move to.
In the early hours of Saturday morning, I was struck by one whopper of a migraine. I used to get them frequently; I once lost a job because of them (this was before the Americans with Disabilities Act). But now I don't get them often at all, and I haven't had one this severe in years. I got them under control through a combination of physical therapy and biofeedback, at least until the insurance company decided it wouldn't cover biofeedback, a decision that put the clinic out of business since this was a one-company town, and that company's insurance provider was essentially the only one in town. Even though the program was cut off, it helped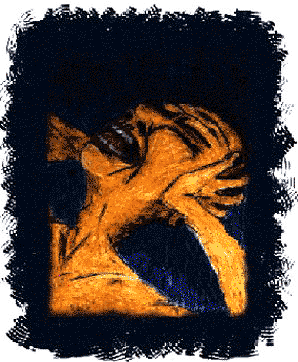 immensely while it lasted, and I really thought I would never have a headache like that one ever again. About three in the morning, I was hit by yellow-white daggers through my eyeballs, and my head felt like it was being crushed by a trash compactor, and even though the blinds were shut, the moonlight that shone through them pounded the daggers deep into my brain behind my eye sockets. A cat walking across the foot of the bed was like standing next to the howitzers during the 1812 Overture, and the sound of Pat's breathing – he was NOT snoring, this time – was like ten thousand beginning violin students all playing at once. I was in agony, and howling in pain. I was hundreds of miles away from where my biofeedback tapes were gathering dust, and the prescription medications had expired many years ago. Neck rubs! Ibuprofen! Will somebody please turn the moon off!
Over the next couple of hours the pain abated, but then the sun came up. I just plain couldn't do anything but pull the bed covers over my head and just wait for the pain to subside. Worse, Pat and Tadpole were working to pack up all of our stuff and clean the apartment so we could move to the next place. As hard as they tried, they couldn't accomplish those tasks without making noise or using cleaning supplies, the smells of which made my stomach turn.
By early afternoon, I was beginning to feel almost human again. I still had some achiness, most oddly, a throbbing from the lump on my skull from getting hit by the boom a year ago. And my stomach was still queasy, although some club soda helped. We talked on the phone more with Zorro, who was still dealing with car troubles, but who hoped to get to the lake either that night or Sunday morning.
We went to the lake, where we saw Sutherland, who has just bought an Etchells, White Lightnin' and has been keeping it on a buoy at the south end of the lake while his trailer was getting some work done, and two of his crew, Dixie and Teddy Bear. They had been sailing, but the wind had been light, and then it died. So we didn't do any sailing ourselves. Instead, we all had lunch together in the inaugural meeting of Etchells Fleet 31. Well, at least we did have people present representing three of the four New Mexico Etchells, and since we don't have bylaws yet, a quorum can be whatever we want it to be.
Sunday morning, all that was left of the migraine was some pain in the old scar tissue and a general feeling of exhaustion. Zorro had phoned the night before to say that he had gotten his car at least temporarily fixed and that he hoped to be at the lake that morning by 10. Pat and I (we had left Tadpole packing and cleaning) got there about 10:15, and there was no sign of Zorro, although Sutherland and Dixie were setting sail in nearly non-existent winds to take his boat to the ramp where they were to meet Teddy Bear with the trailer. I was still hoping Zorro would show up, so I came up with a plan: Pat would drop me off to do some work on my boat, and if Zorro hadn't showed up by the time they came past my slip, they would stop and pick me up.
In the extremely light wind, it took them 45 minutes to get there. I spent the time rigging Black Magic's sails and getting her ready to go, with the idea that maybe Pat and Tadpole could get in some sailing with me later in the day, or if Zorro did show up, he could take my boat and get on the water right away, rather than having to spend time rigging his own boat. Then I got on board with Sutherland and Dixie and we began to sail, very slowly, northward.
After about a half hour, the wind came up nicely and we were finally going well. We saw a sail behind us, and we turned to meet Zorro, on Constellation. We probably didn't need to turn around to meet him; he would have caught up to us quickly anyway. We sailed together a bit, and then we went to the courtesy dock by the boat ramp. At that point, Sutherland and his crew wanted to go to lunch, but Zorro wanted to keep sailing while there was wind, rather than risk being becalmed far from his slip at the southern end of the lake. I decided to join him. First, we went north to the race course area, and we confirmed that there is now plenty of water depth between Rattlesnake Island and Lions Beach. We briefly hailed Cap'n Groovy, whose boat has much shorter sails than an Etchells, who was motoring toward the marina. The air at the surface of the lake was dead calm, but at the top of our sail, there was enough to make the boat go. But even that was fading as we put up the spinnaker to drift southward back to the marina. The sun was behind the hills as we put our boats away.
Pat arrived at the marina just as Zorro and I were finishing up, and we drove to the boat ramp to find Sutherland and his crew still working on the boat. It had grown quite a lot of green stuff on the bottom while it was in the water, since it didn't have any bottom paint. So they had put the boat on the trailer and taken it out of the water, scrubbed the bottom, and then rolled it back into the water to rinse off – without making sure the boat was secured to the trailer. When we got there, Sutherland and his crew were getting a tow from a pontoon boat to get White Lightnin' on the trailer for the second time that day.
After helping Sutherland and his crew with their second retrieval, Zorro headed home to El Paso and his cats, and Pat and I went to meet Tadpole and our cats at the doublewide that will now be our pied-à-terre in T or C. It's going to need a lot of cleaning before it's habitable, and Dulce was delighted to find out that the place has mice. Once it is cleaned up, however, it will be nice, with two big bay windows in front for cats to snooze in on sunny days, of which T or C has a lot.
Since I had opted for sailing rather than lunch, I was famished, so we grabbed a quick supper before heading home to Albuquerque, where I can see if I can find my old biofeedback tapes and related stuff. I don't know whether I still even have a working tape player. At least the sailing was therapeutic; after something like six hours on the water, I have no pain other than a little ache in the scar. Of course, I'm also exhausted; even light-air sailing can be wearying, and the whole weekend left me short on sleep.